Moderators: desertstorm, water01, vwnutant
Anyone bought one of these? Pretty cheap, feedback looks good and a few people have bought the PD ones recently. May be interested in one for the price on my 130 TDi.
2002 TDi 130 SE Wagon & Suzuki GSXR1000 K4
---
Link??
2001 1.9Tdi Sport PD130
Re-mapped at THS Performance
---
2002 TDi 130 SE Wagon & Suzuki GSXR1000 K4
---
UKPassat's Possie
Posts: 5816
Joined: Thu Apr 12, 2007 5:28 pm
Passat model: Amarok Ultimate
Location: Miles away
I posted this on TDI Sport........



I put a Tunit on my wifes 307 Dturbo 110.

What a waste of time that was. The car was painfully slow to start with, and to be fair the Tunit did make it feel faster, but the reality was that it was not actually any faster. It would still get wasted by a mates standard 110 Golf. It seemed as if it was like driving a car with the choke out (remember them). A bit of a surge when you put your foot down, but that was it.

After about 6 months, I felt a trip to Superchips was in order. The first run on the rollers with the Tunit on showed 114bhp with the power droping of sharply at just below 4000rpm. 2 hours later, the Tunit was on ebay and the Superchips software was uploaded. This time the rollers showed 138bhp at 4200rpm and a willingness to rev to 5000rpm.

On the road it felt so much better. Smooth linear power from about 1500rpm right though the range, and more importantly, the slight edge over the aformentioned Golf.

Fuel consumption is slightly better than standard, and 4 years later with several main dealer services, not one problem at all.

So to sum up after all my ramblelings. Get it mapped and forget it.


Tunit are suposed to be at the top end of the tunning boxes, so I would'nt expect great things from anything cheaper. After all, some of these devices are nothing more than a 10p resistor in a fancy box.
2004 V6 TDI gone and replaced with a 2011 TDI Sport DSG which has gone too.
---
Site Admin
Posts: 10290
Joined: Thu Apr 19, 2007 9:11 pm
Passat model: B5.5 130 TDI AWX
Location: Cannock
That tuning box is a resistor, You can tell by looking at the picture that the connectors are small and will connect to the diesel temperature sensor. A proper diesel tuning box connects into the loom between the ECU and the injectors.
This means it has large round multi pin connectors and will also need a 12V power feed.
Had a quick look on E-bay and you can see what the connectors should look like,
http://cgi.ebay.co.uk/TUNING-BOX-VW-AUD ... 286.c0.m14
" onclick="window.open(this.href);return false;
You can also see the Red and black wires that are used to power the box.
The following is another resistor tuning box
http://cgi.ebay.co.uk/TDI-TUNING-BOX-PU ... 286.c0.m14
" onclick="window.open(this.href);return false;
You will get a power increase because the engine will inject more diesel, It tricks the engine into thinking the diesel is hot, over 120 degrees. Hot diesel is less dense so more needs to be injected. However it does this at all engine speeds, with reducing effect after about 3300 RPM, all the time. The result is black smoke when accelerating from lower RPM as the turbo doesn't really get moving until engine RPM gets to at least 1700 RPM and there is less of a power increase above 3500 rpm.
The tuning box I have on my car bought off E-bay second hand, an ALPIN PD4, Doesn't do anything at all to increase fuelling below about 1700 RPM. If your car is producing a lot of black smoke that carbon will eventually foul the VNT mechanism on the turbo. It will also be going back into the engine through the EGR valve unless you have disabled that causing all kinds of problems.My car also pulls very strongly all the way to the red line if you want it to.
A proper tuning box will only increase fuelling when it is needed so by monitoring the diesel injector fuel pulses it can work out the engine RPM and also how much throttle you have. The more throttle the wider the pulses will be.
A tuning box will never be as good as a good remap, but then I only paid £65 for my box and the difference between the performance it has now and a remap isn't worth the £200.
If tuning boxes cost £250-£300 I would go for a remap every time.However I do have one advantage over almost all remaps and that is I have a switch on the dash that powers off the box thus reverting the car to normal straight away.Does come in handy when driving in really slippy conditions such as snow or on wet muddy grass.
Also I can do back to back tests to see what the effect is, WIth the box off the car does 0-60 in around 9.8s which is about what the manufacturer states. Repeat the test again 5 minutes later on the same piece of road with the box on and it gets there in around 8.3s, It's more difficult to get a repeatable result because of the wheelspin or traction control kicking in but the biggest difference is in gear acceleration. I try to avoid quick getaways as this is what can screw the clutch but once moving the difference is quite remarkable.
Gone but will never be forgotten
207Bhp 347Lb/ft 14.9 seconds 93mph
The build topic
viewtopic.php?f=5&t=56110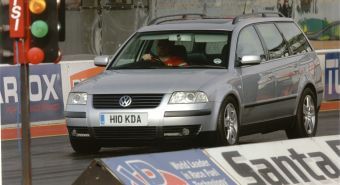 The new 382bhp Audi
viewtopic.php?f=5&t=70765
---
Cheers for the replies.

I was suspicious for the cash to be honest. I had my eye on a Dragon tuning box the other week but forgot to bid on it. That had a seperate power lead and I think they are a good couple of hundred quid new.

I am tempted to remap it but at 123k - and I think the original clutch, I am kind of scared as I don't want it screwed sooner than it would be normally due to the cost of doing the clutch and DMF!
2002 TDi 130 SE Wagon & Suzuki GSXR1000 K4
---
Who is online
Users browsing this forum: Gerry59 and 26 guests