hope this helps some of you out.. saves you £££££££££££££££££££££££££££££££££
ok so the propshaft bearing was coursing some issues on my car. (car shake,etc) after I jacked up the car to take a look the rubber on the centre bear was soft, cracked, and not looking good at all. Anyway VW have made the propshafts on 4motion cars a non-serviceable part
and after calling the main dealer found out a new one was £900+vat. So did a little digging on the net etc, and this is now I fixed the problem using one off these.£130+ post from Germany. I have another one for-sale. Brand new £130 posted check in the for-sale section if you are looking to do this job.
So once you have all 4 ends of the car jacked up and put on axle stands you need to remove the Exhaust from the car, also the propshaft heat shield (6x 10mm bolts)now you can see the propshaft you need to unbolt the two ends from the diffs using a Allen key socket set.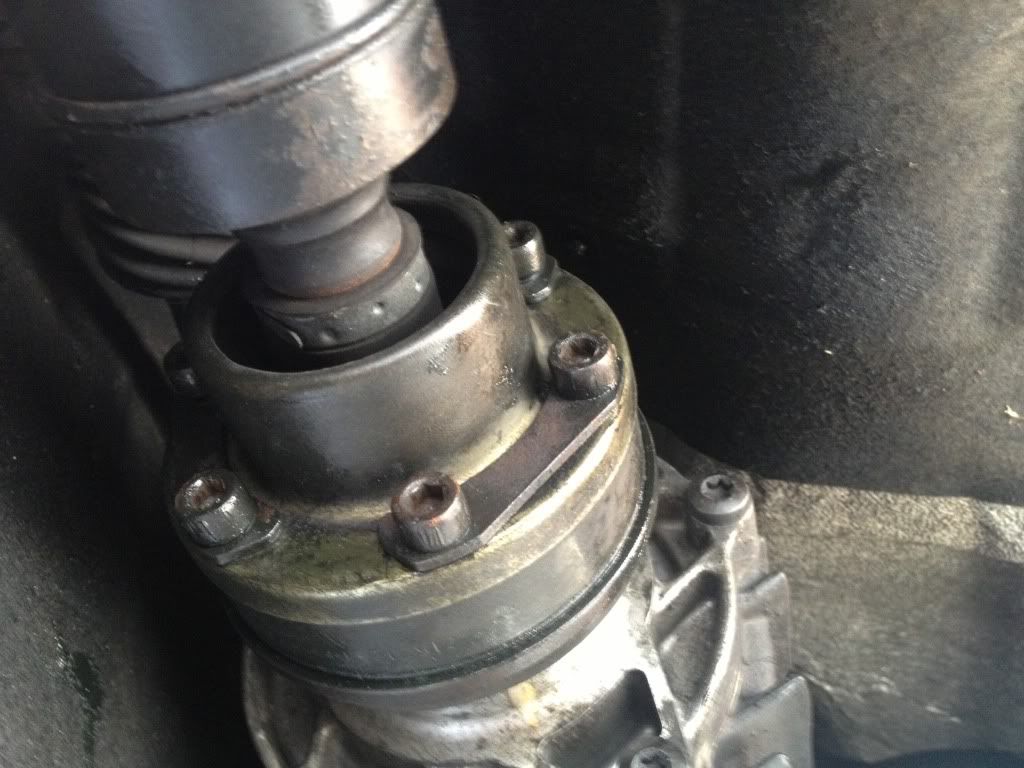 six bolts at each end you are best to have the handbrake on to loosen them, Once you have all 12 bolts out use a 13mm to undo the two nuts at the centre bearing. watch out for the fat washers here as you will need to put them back the same. you may want a mate to help lift the propshaft, but I did it on my own with no problems.
propshaft comes off the car
Ok...if you look at next picture you can see the 17mm bolt that you have to undo next at the u-joint.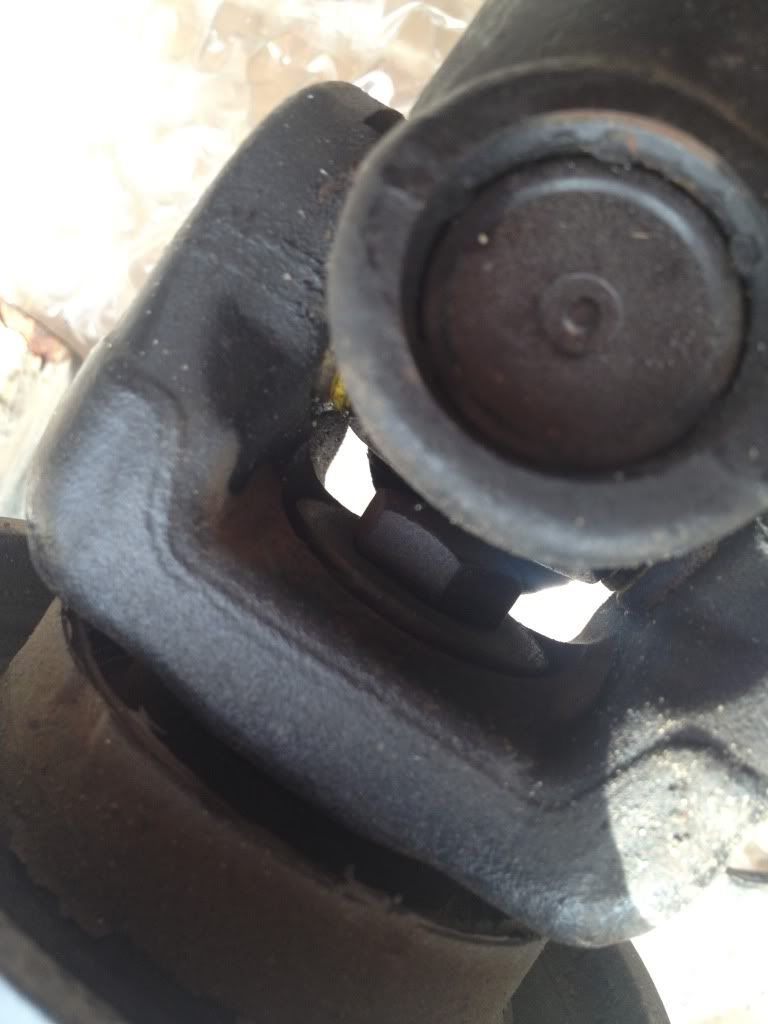 its pretty tight in there so you have to adapted a 17mm spanner cut ring spanner down in thickness( about half what it was should be fine) i also cut the open end witch helped but you will need the ring spanner to start with as bolt is tight.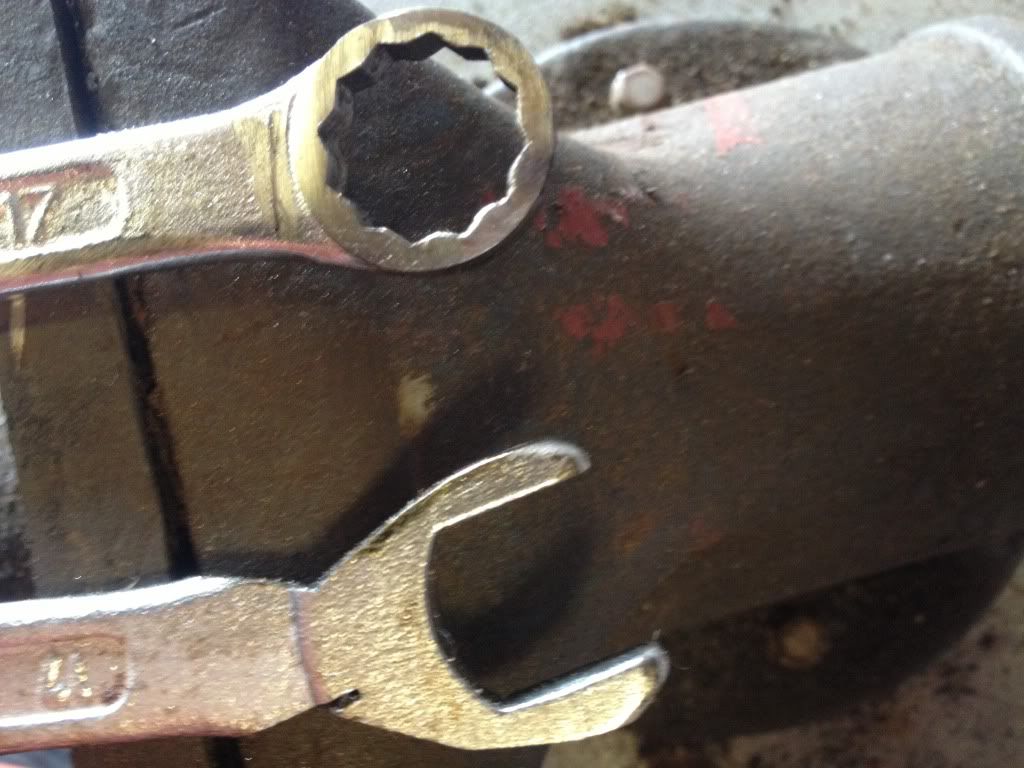 make sure you mark the shaft BEFORE you finish unbolting it as below as the shaft is balanced THIS IS VERY important ....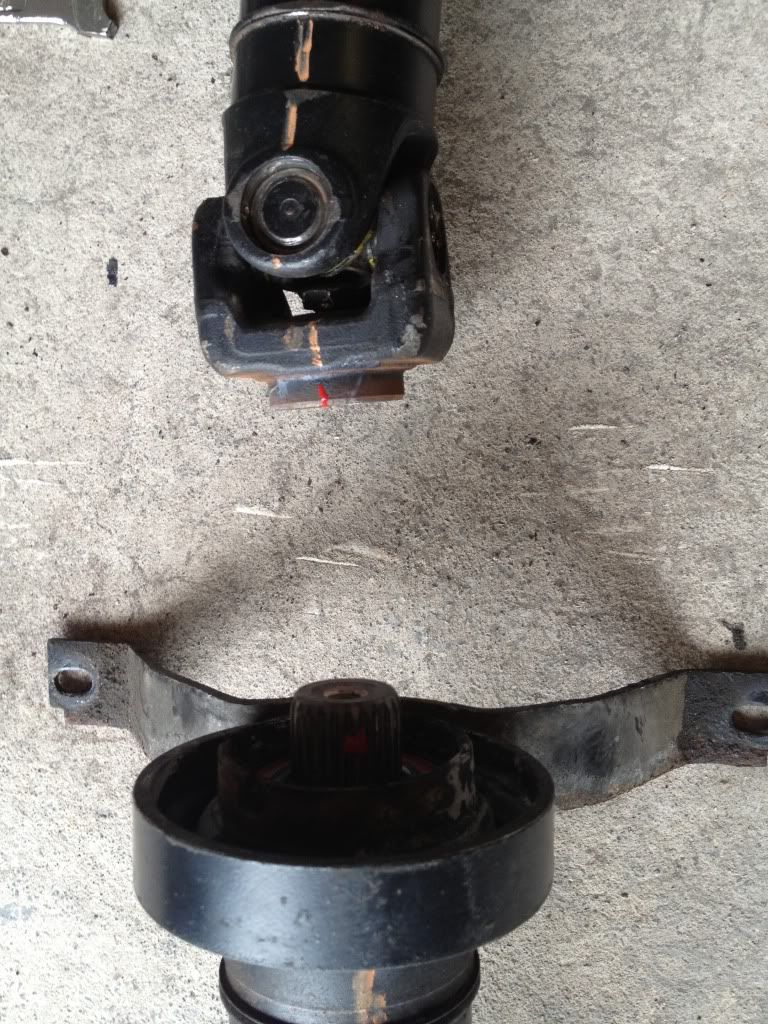 ok we are getting there. next you need to knock the old centre bearing off I just used a big screwdriver 3-4 knocks from the back on the bearing and off she came. next I used a socket the same size as the new bearing to tap on to shafted.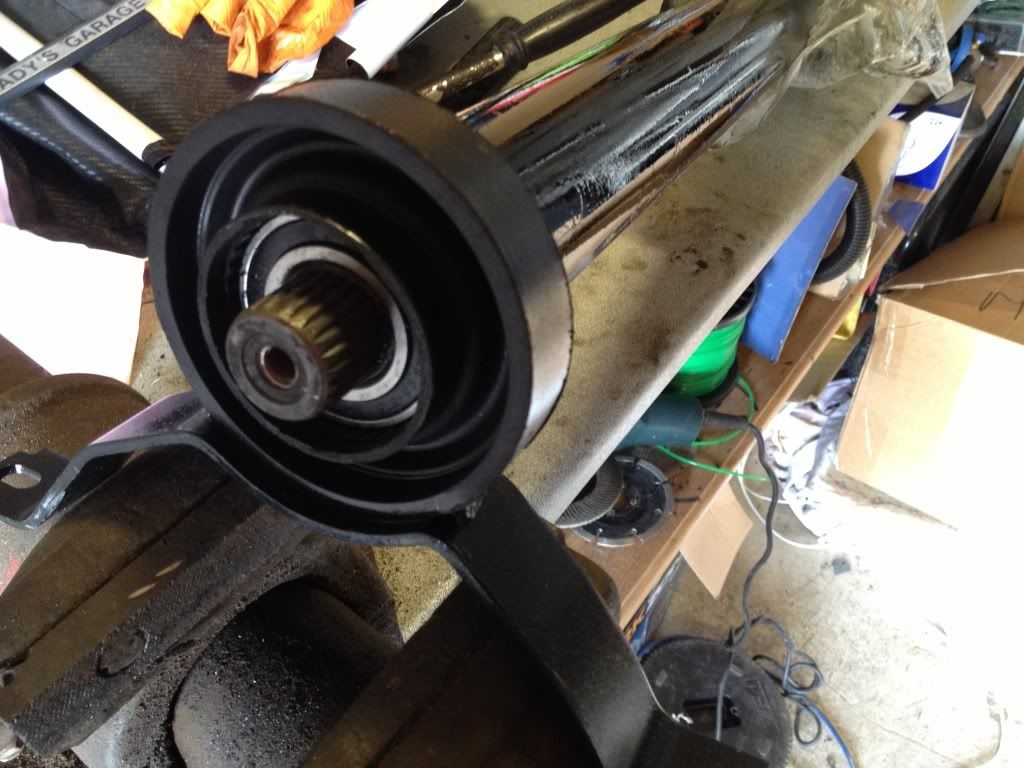 once its taped home you can bolt the two parts of shaft back together, just make sure the marks line up the same as when you took it apart and tighten up the bolt with a little lock-tight. and that's it.. bolt back on car refit exhaust and heat shied. you have just saved yourself £800-£900